Surroundings
Marienbad surroundings
Marianske Lazne (Marienbad) is a spa town belonging to so-called "Westbohemian spa triangle" area. Together with the other spa towns and cities forms a very specific region full of mineral springs, natural beauties and historical towns and castles. Surroundings, places to see (in the order of the distance):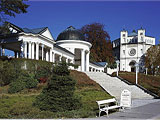 Marianske Lazne (Marienbad, about 2,5 km from the camp)
Spa town with drinkable mineral water springs, Art Noveau Collonade, outdoor "Singing Fountain", many parks and historical spa buildings, cultural and sport activities (theater, golf playground etc.).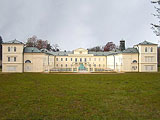 Kynzvart (9 km)
Empire chateau open to the public, former seat of Prince Metternich, valuable interiors and collections, neighbouring town is also a spa.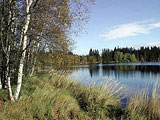 Kladska (9 km)
Small hunting castle in the forest with the lake, great for walking tour around.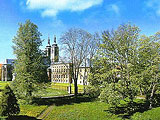 Tepla (12 km)
Gothic monastery, one of the oldest in the Czech Republic, now open to the public, nice cathedral.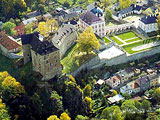 Becov nad Teplou (25 km)
Medieval castle and chateau (together), open to the public, in chateau beautiful interiors, possibility to see the treasury – unique Roman-Gothic sarcophagus of St. Maurus which is belived to be almost of the same historical value as the Czech Royal jewels.
Cheb (30 km)
Medieval town with nice historical square, old Roman – Gothic castle, open to the public.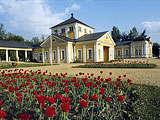 Frantiskovy Lazne (35 km)
Small picturesque spa town with springs, statue of small boy František (Franz) – touched by women for pregnancy.
Soos (35 km)
Natural reserve, plain of "muddy vulcanos", bubbling mud, gas and sulfur springs, very interesting, colourful and mysterious.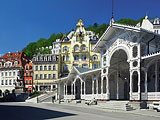 Karlovy Vary (Karlsbad, about 45 km)
The most famous Czech spa, drinkable mineral water springs (hot and cold), collonades, historical houses, view towers on the hills around the spa center reachable by cablecars, cultural center of the region.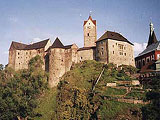 Loket (45 km)
Unique medieval town with little narrow streets surrounging the square, great Gothic castle (open).
There are many other places and things to see, everyone will find something for his/her interest. It can be also mentioned that during the Communist regime the area along the western border was closed. This "bordering strip" started not far from Mariánské Lázně and so nowadays when it is open you will find there land of deep forests and forgotten villages.

Events
Currently there are no events.